We wrap up our recap of #HIMSS19 with this third installment, covering the final topics of major interest.To read our previous installments, click here for Part I and here for Part II.
Consumerism & The Patient Experience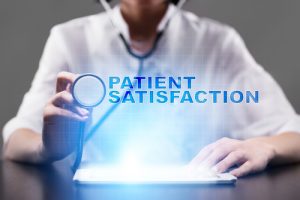 Definitely the new topic on the block this year, the trend toward consumerism took center stage. As consumers in 2019, we demand the efficiencies and best case scenarios that today's technology should be able to provide. We want immediate information, along with access to health, whether that be in-person or remote. And we want visibility into the prices we are paying for care, and the value it provides us for that price. In short, we seek proof that we are getting the very best possible care and recommendations for the best possible prices. And while we as consumers are beginning to increase our expectations, organizations are certainly taking notice as well, and focusing their efforts on attracting and retaining their populations through a number of patient experience factors, such as improved scheduling, telehealth, and support services. To continue being successful in the future, it is clear that organizations will need to put additional effort into cost, quality, and patient satisfaction initiatives.
Value Based Care
While the consumerism and patient experience conversations were by far the newest, we also encountered plenty of conversation surrounding the shift to value-based care, which has been a topic of growing interest and attention now for some years. With reimbursement patterns shifting, and more organizations having a financial stake in health and outcomes of the populations they serve, and not just services provided, this continues to be an important topic. The opportunities to improve both population outcomes and costs seem nearly boundless at this point, with advanced data and analytics paving the way. We'll continue to see a heavy emphasis on supply chain cost opportunities, readmission and length of stay impacts, and overall continuity of patient care throughout 2019 and likely beyond. The years to come will bring added visibility into the cost of care, into the social and contextual determinants of our health outcomes, and even into the variability and performance of health organizations and practicing professionals.
That wraps up our summary of the major topics of interest discussed at #HIMSS19. The future is definitely bright, but there's a lot of work left to be done. The Wilshire Group looks forward to our continued involvement helping clients develop and execute their strategic initiatives, and crafting solutions that propel them into the future of health. For those of you we were able to catch up with or connect with this year in Orlando – we look forward to doing so again in 2020!
- The Wilshire Team
p.s. We'd be remiss if we didn't at least mention that yes, blockchain and cybersecurity were also definite peripheral topics of interest this year at #HIMSS19. Cybersecurity is certainly a real and pressing matter for all organizations, and we fully anticipate blockchain to take center stage in years to come.